MAN TGX 18.440 XLX BLS-4x4H+KIPHYDR tractor unit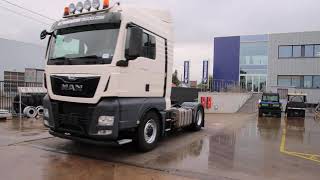 1/12
≈ $34,360
≈ KES 4,052,000
First registration
2015-07-17
Location
Belgium
Handzame
Remote inspection
Request an independent technical inspection
Need delivery?
Calculate the cost of delivery
= Additional options and accessories =

- Roof spoiler
- Tipper hydraulics

= More information =

Bodywork: Standard tractor
Drive: Wheel
Střešní spoiler
- Vyklápěcí hydraulika
= Weitere Optionen und Zubehör =

- Dachspoiler
- Kipphydraulik

= Weitere Informationen =

Aufbau: Standard-SZM
Antrieb: Rad
= Flere valgmuligheder og mere tilbehør =

- Tagspoiler
- Tipladshydraulik

= Yderligere oplysninger =

Karosseri: Standardtrækker
Drivanordning: Hjul
= Más opciones y accesorios =

- Hidráulica de volquete
- Spoiler de techo

= Más información =

Carrocería: Tractor estándar
Propulsión: Rueda
= Plus d'options et d'accessoires =

- Béquet de toit
- Hydraulique

= Plus d'informations =

Construction: Tracteur standard
Commande: Roue
Billenőplató-hidraulika
- Tetőlégterelő
Idraulica cassone ribaltabile
- Spoiler per il tetto
= Aanvullende opties en accessoires =

- Dakspoiler
- Kipperhydrauliek
- Nachtchauffage
- Reservesleutel

= Bedrijfsinformatie =

Wij verkopen enkel aan professionelen (geen particulieren) - Voor meer informatie kan je altijd terecht op onze website. We only sell to professionals (no private individuals) - For more information you can always visit our website. Nous vendons uniquement aux professionnels (pas de particuliers) - Pour plus d'informations, vous pouvez toujours visiter notre site Web. Wir verkaufen nur an Unternehmen (keine Privatpersonen) - Weitere Informationen finden Sie auf unserer Website.

= Meer informatie =

Opbouw: Standaard trekker
Aandrijving: Wiel
Motorbouw: 6L
Staat banden links op as 1: 76%-100%
Staat banden links op as 2: 76%-100%
Staat banden rechts op as 1: 76%-100%
Staat banden rechts op as 2: 76%-100%
Leverbaar: In België
= Więcej opcji i akcesoriów =

- Hydraulika
- Spoiler dachowy

= Więcej informacji =

Budowa: Standardowy ciągnik
Napęd: Koło
Jogo aerodinâmico
= Дополнительные опции и оборудование =

- Гидравлическая система самосвала
- Спойлер на крыше

= Дополнительная информация =

Кузов: Стандартный тягач
Привод: Колесо
Hydraulika vyklápača
- Strešný spojler
Damper hidroliği
- Tavan spoyleri
Important
This offer is for guidance only. Please request more precise information from the seller.
Safety tips
Seller's contacts
BRAEM NV/SA
The phone numbers have been checked
The address has been checked
Belgium, West-Flandres, B-8610, Handzame, Handzaamse Nieuwstraat 7
Seller's local time: 10:38 (CEST)
Selling machinery or vehicles?
You can do it with us!