New IVECO Daily 70C18 tow truck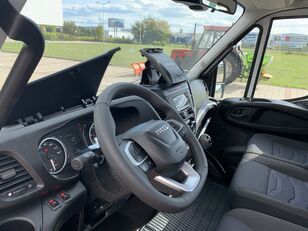 1/24
Location
Poland
Warszawa
Description
Overall dimensions
length - 6100 m, width - 2250 m
Truck body
Body dimensions
length - 6100 m, width - 2250 m
Need delivery?
Calculate the cost of delivery
Cabin
Cruise control (tempomat)
Electrically operated mirrors
Firma Top Cars
Oferuje do sprzedaży
Samochody Specjalny Pomoc Drogowa Iveco Daily 72C18
Rozstaw osi 5100 mm
z fabrycznie nową zabudową do przewozu pojazdów - Hydrauliczna.
Opis zabudowy
Fabrycznie Nowa Zabudowa
WYMIARY: długość: 6100 mm; szerokość: ok. 2250 mm
Wyposażenie standardowe:
• Rama pomocnicza
• Rama uchylna z 2 cylindrami hydraulicznymi, zaopatrzonymi w zamki hydrauliczne
• Platforma o konstrukcji stalowej panelowej, prowadzona na ślizgach teflonowych, wszystkie elementy
stalowe cynkowane
• Cylinder wysuwu platformy o długości ~ 3150 mm
• Bariera na przodzie platformy (niska lub wysoka)
• Skrzynia sterownicza zamykana (tworzywo sztuczne) l = 600 mm
• Skrzynka narzędziowa (tworzywo sztuczne) 2 X =600 mm
• Boki platformy, gruntowane, silikonowane i lakierowane w kolorze standardowym Iveco lub inny.
• Rolka kierunkowa ( 1 sztuka)
• Stopery pod koła
• Platforma zamontowana na podwoziu
• Kompletna hydraulika
• Węże hydrauliczne osadzone w łańcuchu energetycznym
• Wciągarka hydrauliczna
• Plastikowe błotniki
Opcje dodatkowe w cenie
• sterowanie radiowe zwijaniem liny
• sterowanie radiowe płytą
• alukanty
• pompa hydrauliczna
• przystawka mocy
• reflektory LED na półce za kabiną (2 sztuki)
• przesuw hydrauliczny wyciągarki na boki sterowany ze skrzynki
• osłony boczne aluminiowe (lakierowane)
• zaczep kulowy z instalacją
Możliwość zamontowania dodatkowych wideł hydraulicznych !!!
Możliwość pomalowania na inny kolor !!!
GWARANCJA !!!
!!!Samochód jest dostępny !!! Realizacja zabudowy 02-03/2022!!!
Oferujemy atrakcyjne finansowanie - Uproszczone procedury !!!!
Kredyt - Leasing - Ubezpieczenia !!!
Leasing dla Nowych Firm !!!
Zapraszamy !!!!
Top Cars
Warsaw Distribution Center
ul. Szyszkowa 35/37
02-285 Warszawa
tel:
show contacts
tel: + 48 22 877 38 83
Niniejsze ogłoszenie jest wyłącznie informacją handlową i nie stanowi oferty w myśl art. 66, § 1. Kodeksu Cywilnego. Sprzedający nie odpowiada za ewentualne błędy lub nieaktualność treści ogłoszenia.
Important
This offer is for guidance only. Please request more precise information from the seller.
Safety tips
Seller's contacts
Poland, Mazoweckie, 02-285 , Warszawa, ul. Szyszkowa 35/37 Budynek A
Seller's local time: 02:40 (CET)
Selling machinery or vehicles?
You can do it with us!