You may find interesting
Close
JOHN DEERE 4730 В НАЛИЧИИ 3шт
price on request
JOHN DEERE 4940 ПРОВЕРКА НА МЕСТЕ
price on request
BERTHOUD boxer-4000 №71
$51,300
JOHN DEERE 4940
$136,500
JOHN DEERE 4940
price on request
JOHN DEERE 4830
price on request
SPRA-COUPE Challenger 4660 self-propelled sprayer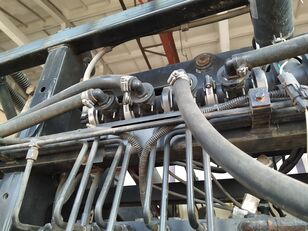 1/41
≈ $47,050
≈ KES 5,186,000
Type
self-propelled sprayer
Location
Ukraine
Harkov
Description
Transport dimensions
6 m × 3.2 m × 3 m
Вес, пустой, кг 4526
Вес, рабочий, кг 6205
Клиренс (от рамы до земли), мм 1220
Транспортные размеры (Д x Ш x В) - м 6 x 3.20 x 3

СКОРОСТИ, КМ/ Ч
1 6.3
2 10.9
3 16.4
4 21.9
5 30.4
Реверс 6.9

ШИНЫ
Передние 9-24 8 ply
Задние (стандарт) 320/85R24 12 ply
Передняя подвеска Независимые подпружиненные стойки на качающейся передней оси
Задняя подвеска Независимая коленного типа, с пружинами
Ширина колеи, мм 2032 - 2743

ДВИГАТЕЛЬ
Марка и мощность Caterpillar® - 122 л.с. Caterpillar®
Тип 3054C - DITAAL 4,4 L
Холостые обороты, об/мин. 800
Максимальные обороты, об/мин. 2300
Топливный бак, л 151.4
Картер двигателя, л 7

ТРАНСМИССИЯ
Тип BorgWarner T-5, 5-скоростей, механическая
Емкость картера трансмиссии, л 2.65

СИСТЕМА ОПРЫСКИВАНИЯ
Контроллер Raven™ 460
Контроль потока Установленный на двигателе центробежный насос Hypro® с ременным приводом и электромагнитной муфтой
Смешивание жидкости в баке Ручная регулировка с электрическим включением/выключением из кабины
Емкость основного бака, л 1514
Насос Центробежный насос Hypro с электромагнитной муфтой
Фильтрация Cетчатый фильтр в линии подачи жидкости

ШТАНГИ
Материал, ширина Сталь, 24.4 м
Количество секций 5

ВЫСОТА ШТАНГ С ГИДРАВЛИЧЕСКИМ РЕГУЛИРОВАНИЕМ
Нижнее положение, мм 533 - 1930
Верхнее положение, мм 940 - 2337
Вага, порожній, кг 4526
Вага, робочий, кг 6205
Кліренс (від рами до землі), мм 1220
Транспортні розміри (Д x Ш x В) - м 6 x 3.20 x 3

ШВИДКОСТІ, КМ / Ч
1 6.3
2 10.9
3 16.4
4 21.9
5 30.4
Реверс 6.9

ШИНИ
Передні 9-24 8 ply
Задні (стандарт) 320 / 85R24 12 ply
Передня підвіска Незалежні підпружинені стійки на хиткій передньої осі
Задня підвіска Незалежна колінного типу, з пружинами
Ширина колії, мм 2032 - 2743

ДВИГУН
Марка і потужність Caterpillar® - 122 к.с. Caterpillar®
Тип 3054C - DITAAL 4,4 L
Холості оберти, об / хв. 800
Максимальні обороти, об / хв. 2300
Паливний бак, л 151.4
Картер двигуна, л 7

Трансмісія
Тип BorgWarner T-5, 5-швидкостей, механічна
Ємність картера трансмісії, л 2.65

СИСТЕМА обприскування
Контролер Raven ™ 460
Контроль потоку Встановлений на двигуні відцентровий насос Hypro® з ремінним приводом і електромагнітною муфтою
Змішування рідини в баку Ручне регулювання з електричним включенням / виключенням з кабіни
Ємність основного бака, л 1514
Насос Відцентровий насос Hypro з електромагнітною муфтою
Фільтрація Cетчатий фільтр в лінії подачі рідини

ШТАНГИ
Матеріал, ширина Сталь, 24.4 м
Кількість секцій 5

ВИСОТА штангу з ГІДРАВЛІЧНИМ РЕГУЛЮВАННЯМ
Нижнє положення, мм 533 - 1930
Верхнє положення, мм 940 - 2337
Important
This offer is for guidance only. Please request more precise information from the seller.
Safety tips
Seller's contacts
Agro Equipement
Seller with Autoline for 3 years
The phone numbers have been checked
Mikola Ivanovich
Languages:
Ukrainian, Russian
Ukraine, Kharkiv Oblast, Харьков
Seller's local time: 01:25 (EEST)
Selling machinery or vehicles?
You can do it with us!