The ad MAN 18.285 GAS LPG/GPL/PROPAN/BUTAN=16.500 L+PUMP+HOSE+COUNTER+ADR gas truck has been sold and is not included in the search!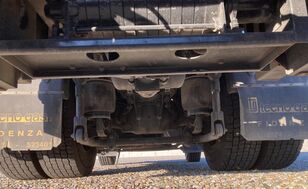 1/34
Model
18.285 GAS LPG/GPL/PROPAN/BUTAN=16.500 L+PUMP+HOSE+COUNTER+ADR
First registration
2002-08-05
Location
Italy
Cremona
Description
Overall dimensions
length - 7070 m, width - 2350 m
Tank transport
Thickness of tanker walls
9.24 mm
Thickness of the end walls
9.24 mm
Thickness of partition walls
9.24 mm
Cabin
Cruise control (tempomat)
Condition
Technical inspection valid till
2022-09-31
MOTRICE GAS GPL 2 ASSE (4x2),
MAN 18.285 DEL 05/08/2002 EURO 3, TACHIGRAFO ANALOGICO.
MOTORE DIESEL=6871 cm3, 206 KWT=280 PS, BALESTRA-PNEUMAT,
MASSA COMPLESSIVA=18.000 KG.
PORTATA=8.200 KG
TARA=18.000-8.200=9.800 KG.
CAMBIO MANUALE, RETARDER!
517.000 KM, TETTUCCIO, VISIERA PARASOLE, RADIO, 1 SERBATOIO DIESEL=450 L,
1 SERBATOIO OLIO IDRAULICO=150 L., SPEGNI FIAMMA.
CISTERNA GAS GPL "RICOFER"-PRODUCT 2002, CAPACITA'=16.500 L.
CODICE CISTERNA-FL, TRASPORTO GAS GPL CLASSE 2F ADR.
PRESSIONE=27 BAR.
SPESSORE=9.24 mm.
COMPLETO DI POMPA, CONTALITRI MECCANICO "SAMPI MA7",
COMPLETO DI ARROTOLATORE CON ATTACCO TODO.
GOMMATA 295/80 R22.5 6 GOMME NUOVE=100%+RUOTA DI SCORTA.
MISURE LIBRETTO: LUNGHEZZA=7.070 M., LARGHEZZA=2.350 M.
REVISIONE SCADE 30/09/2022.
CERTIFICATO ADR "BARATO ROSA" SCADE 03/10/2022.
CERTIFICATO PROVA IDRAULICA "ISPEZIONE TRIENNALE" SCADE 22/10/2022.
MACCHINA MOLTO BELLA-TUTTO FUNZIONA PERFETTAMENTE!!!

PREPARIAMO TARGHE DI TRANSITO CON ASSICURAZIONE PER EXPORT+TRASPORTO IN PORTO+CERTIFICATO GAS FREE.
SPEAK ITALIAN,RUSSIAN,POLAND,ENGLISH.