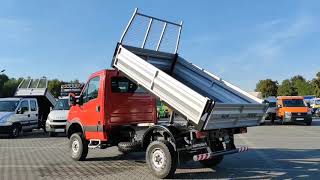 1/35
Location
Poland
Nowa Huta
Need delivery?
Calculate the cost of delivery
kolor: other
- IVECO DAILY 35S18 Do 3.5TONY !!!
Na Prawo jazdy KAT B !!!
Zakupiony W Polskim Salonie I-Właściciel !!!
Napęd 4x4 Reduktory włączane tradycyjnie -Bezawaryjne !!!
Przebieg : tylko 228000 kilometrów
Pojemność silnika 3.0 Diesel
Moc180 Koni Mechanicznych
Zakup i pierwsza rejestracja 2009
Wymiary zabudowy : dłu:310cm ,sze:201cm ,wys burt:50cm
Opony : 255/100 R16
El.lueterka i podgrzewane
Immobilaiser
Blokady: przedniego mostu
tylnego mostu oraz środkowego dyferencjału
Reduktory włączane tradycyjnie - ręcznie przy pomocy dźwigni. Bezawaryjne !!!
Możliwość sprzedaży samej ramy !!!
W ofercie kilka szt różne konfiguracje !!!
Link do filmu :
show contacts
- Link do filmu 2 :
show contacts
- WSZELKIE DODATKOWE INFORMACJE UZYSKACIE PAŃSTWO POD NR TELEFONU:
-
show contacts
tel/ WhatsApp
show contacts
tel/ WhatsApp
Biuro - 570 380 380
Biuro(małpa)duetduda.pl
Pełna oferta na : duetduda.pl
Zapraszamy i prosimy przed przybyciem o potwierdzenie aktualności oferty
Poniedziałek - Piątek w godz. 8.00 - 17.00
Sobota w godz. 8.00 - 15.00
Inne godziny oraz Niedziela po wcześniejszym umówieniu telefonicznym
Przedstawione dane maja charakter informacyjny
nie stanowią oferty w rozumieniu artykułu 66 k.c
Sprzedający nie odpowiada za ewentualne błędy lub nieaktualności ogłoszenia
Dodatkowe informacje: liczba poduszek powietrznych: 2
liczba miejsc: 3
kraj pochodzenia: Polska
Numer oferty: AKL3FPMP
esp
Faktura VAT
Zarejestrowany w Polsce
Pierwszy właściciel
Bezwypadkowy
4x4 35S18 do 3.5tony Kat B 3-osób Stan BD. Polski Salon Wywrot Kiper
Important
This offer is for guidance only. Please request more precise information from the seller.
Safety tips
Selling machinery or vehicles?
You can do it with us!