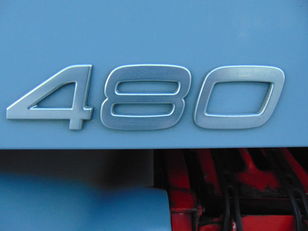 1/37
Truck body
Body dimensions
6.12 m × 2.45 m × 2.6 m
Need delivery?
Calculate the cost of delivery
ABS,EURO 5,INTARDER,ΑΥΤΟΜΑΤΟ ΠΙΛΟΤΟ, ΚΛΙΜΑ, ΟΡΟΦΗ, 1-ΚΡΕΒΑΤΙ, ΚΑΘΙΣΜΑ ΟΔΗΓΟΥ ΚΑΙ ΣΥΝΟΔΗΓΟΥ ΑΕΡΟΣ, ΡΑΔΙΟ-CD, ΨΗΦΙΑΚΟ ΤΑΧΟΓΡΑΦΟ, TCS.
ΕΛΑΣΤΙΚΑ 315/80R22,5.
ΗΛΕΚΤΡΙΚΑ ΚΑΙ ΘΕΡΜΑΙΝΟΜΕΝΑ ΠΑΡΑΘΥΡΑ.
ΗΛΕΚΤΡΙΚΟΙ ΚΑΙ ΘΕΡΜΑΙΝΟΜΕΝΟΙ ΚΑΘΡΕΦΤΕΣ.
ΚΑΡΟΤΣΑ ΜΟΥΣΑΜΑΣ ΜΕ ΣΥΡΡΩΜEΝΗ ΟΡΟΦΗ.

ΕΣΩΤΕΡΙΚΕΣ ΔΙΑΣΤΑΣΕΙΣ ΚΑΡΟΤΣΑΣ:
ΜΗΚΟΣ: 6,12Μ , ΠΛΑΤΟΣ: 2,45Μ , ΥΨΟΣ: 2,60Μ.

ME ΡΥΜΟΥΛΚΑ
ΡΥΜΟΥΛΚΑ ΤΡΙΑΞΟΝΙΚΗ , ΜΕ ΣΠΑΣΤΑ ΠΑΡΑΠΕΤΙΑ , ΜΟΥΣΑΜΑ ΚΑΙ ΣΥΡΟΜΕΝΗ ΟΡΟΦΗ.
ΑΞΟΝΙΑ ΒΡ.
ΕΣΩΤΕΡΙΚΕΣ ΔΙΑΣΤΑΣΕΙΣ ΡΥΜΟΥΛΚΑΣ: ΜΗΚΟΣ 8,44μ, ΠΛΑΤΟΣ 2,45μ, ΥΨΟΣ 2,60μ.

ΕΛΑΣΤΙΚΑ 1ος -2ος-3ος :385/65R22.5


ΓΝΩΣΤΟΠΟΙΗΣΗ ΠΡΟΣ ΤΟΥΣ ΠΑΡΑΛΗΠΤΕΣ
Αυτό το μήνυμα και τυχόν συνημμένα σε αυτό αρχεία είναι εμπιστευτικά και απευθύνονται μόνο στους σκοπούμενους παραλήπτες. Απαγορεύεται η μη εξουσιοδοτημένη χρήση ή διάδοση ή κοινοποίηση σε τρίτους. Τα μηνύματα ηλεκτρονικού ταχυδρομείου είναι δεκτικά αλλοίωσης. Η ΕΤΑΙΡΕΙΑ και οι εκπρόσωποί της δεν ευθύνονται σε περίπτωση αλλοίωσης των μηνυμάτων, ούτε υπέχουν ευθύνη ή εγγυώνται για οποιαδήποτε σφάλμα ή άλλη ζημία που θα υποστείτε από ενέργειες που σας ζητούνται από τρίτους, οφειλόμενες σε χρήση του ονόματος της και σε κάθε περίπτωση επιφυλάσσονται για την άσκηση παντός νομίμου δικαιώματος τους.
Important
This offer is for guidance only. Please request more precise information from the seller.
Safety tips
Seller's contacts
Athan.Vraka Bros
Seller with Autoline for 4 years
The phone numbers have been checked
Viktoria Vraka
Languages:
English, Greek, German
Greece, 42100, Τρίκαλα, ΠΕΡΙΦ. ΟΔΟΣ ΛΑΡΙΣΗΣ - ΚΑΡΔΙΤΣΗΣ
Seller's local time: 13:24 (EET)
Selling machinery or vehicles?
You can do it with us!